Erica Mann Jong '63 Writing Center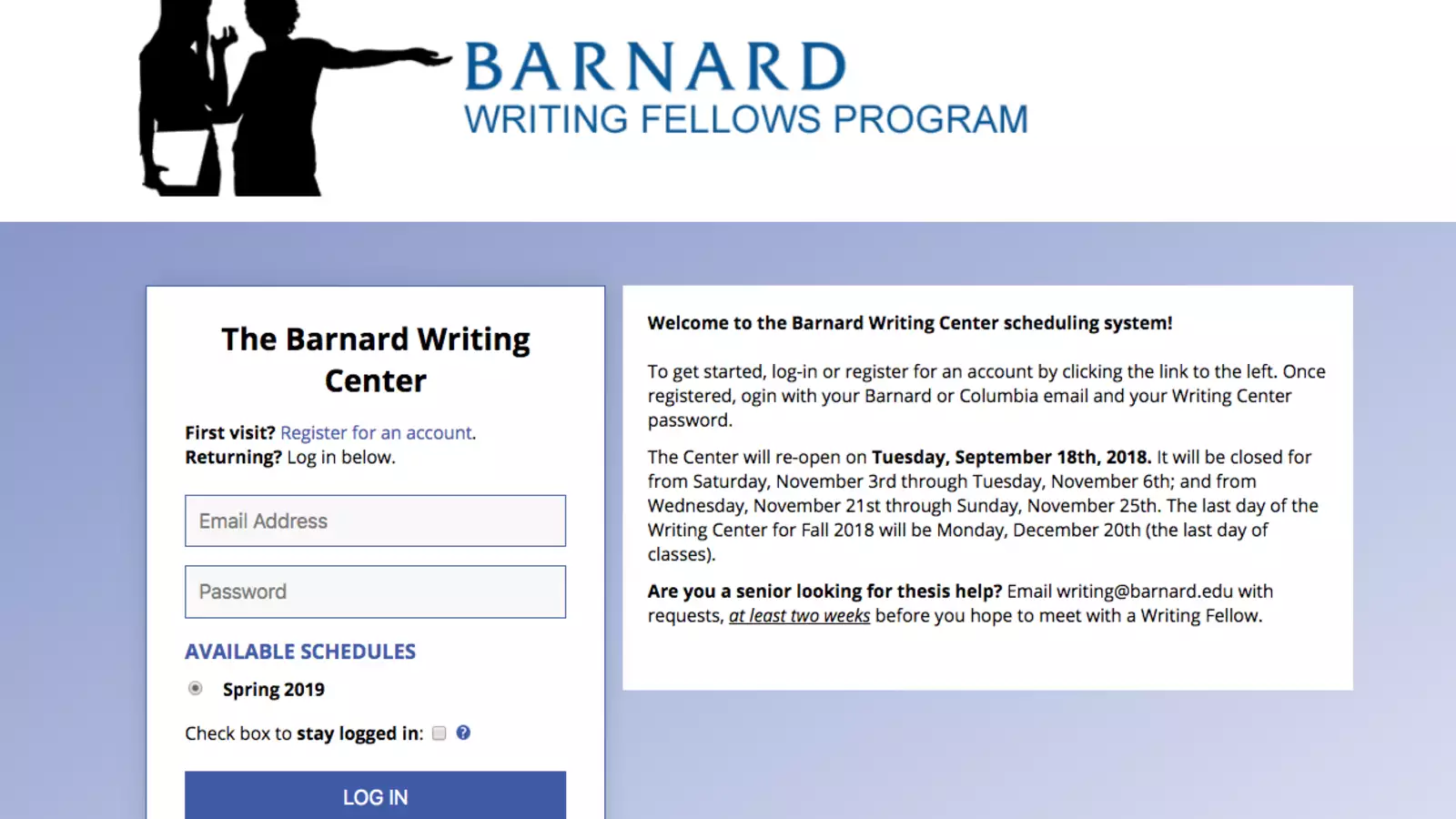 The Barnard Writing Center is designed to help students strengthen their writing in all disciplines and at any stage of the writing process. All writers, no matter how accomplished, can benefit from discussing their work with an intelligent reader and then revising it.
Appointments
To make an appointment with a Writing Fellow, you need to register for an account with our online scheduler. Once you register, you will have access to make appointments.
The schedule for each day opens one week in advance. For instance, if you would like to make an appointment for October 8th, you can sign up for an appointment on that day no earlier than October 1st. We advise you plan ahead when making appointments. They go quickly, so the earlier you look at the scheduler, the more options will be available.
Please note that you may only make 2 appointments in the Writing Center per week. This includes appointments made through the Waitlist.
Writing Fellows almost always use the full hour allotted to each appointment. Please plan to be on time, if not five minutes early. Similarly, do not make an appointment if you have to leave early for another commitment -- plan to put aside the full hour.
Writing Center Rooms are: 223 and 224 Barnard Hall (not LeFrak).
When arriving for an appointment in the Writing Center, use the south entrance on the 2nd floor of Barnard Hall (the side closest to Sulzberger Hall). Have a seat on the green couches, and your Writing Fellow will come out to greet you at the start time of your appointment.
*Conferences are virtual in Spring 2022, until further notice.
Virtual Conferences. When available, the Writing Center offers virtual conferences via our online scheduler. After making an online appointment, you and the Writing Fellow will enter the online session by opening the appointment and then clicking on the "start or join" link that appears on the appointment form. Note: you will have access to the whiteboard and information from the session as long as the appointment remains on the schedule.
You can attach a file, such as PowerPoint,  you will use to the appointment;
If you are unable to use video conferencing, please indicate that when scheduling your appointment
Location: all appointments are scheduled to take place virtually unless otherwise noted by your Fellow.
To make an appointment, click an available time (white box) that suits your schedule.  All appointments will take place online. (Learn more about online conferences:https://speaking.barnard.edu/making-appointment). Please note, that you can only make appointments one week in advance.
Drop-In Hours
Writing Fellows offer drop-in hours around midterms and finals each semester. Drop-In hours allow us to accommodate as many students as possible when conferences are in highest demand. Register for an account with our online scheduler to receive an email notification about when drop-in hours will take place. 
No appointment is necessary for drop-in hours. Students are conferenced on a first-come, first-serve basis by signing up through the scheduler once the appointment becomes available.
(For in-person: when you arrive, wait on the green couches on the south end of Barnard Hall 2nd Floor after signing your name on the drop-in sheet for the relevant hour.)
Like appointments in the Writing Center, students are welcome to come at any stage in the writing process. You can come with an introduction, an outline, a quote, a web, a few notes, a full draft, or just yourself.
If there are 3-4 other folks on the list before you, then the Writing Fellow will likely not be able to meet with you during that particular drop-in hour. In that case, please consult the drop-in schedule or on our online scheduler to see if there are other hours you can attend.
For a guaranteed appointment, please reserve an appointment online.
Cancellations
You may cancel your Writing Center appointment through the online scheduler. Appointments can be cancelled up to 24 hours before your conference time.
If you need to cancel within 24 hours of your appointment start-time, call 212-854-8941 immediately, or email writing@barnard.edu. If you do not hear back from the Writing Center, it means we have not yet received your message by the time of the appointment; this is fine. The Fellow will call you at the appointment time and you can let them know that you will not be able to attend the conference.
Do note, that cancelling within 24-hours may lead to you being marked as a "no-show".
If you do not show up to your appointment in the Writing Center or cancel with less than 24 hours notice, it is counted as a "No-Show." If you are marked as a No-Show, you will not be permitted to use the Writing Center for the remainder of the semester.
Exceptions may be made if you have an emergency and have notified the Writing Center (writing@barnard.edu) before your appointment time.
If you are 5 minutes late for your appointment, the Writing Fellow will call you to confirm whether you are still coming. If you have not arrived 10 minutes after the start time of your appointment, the Writing Fellow will begin calling students from the Waitlist, and you will be marked as a No-Show.
Waitlist
If the appointment time you wanted to reserve is unavailable, you can add yourself to the Waitlist by clicking on the "Waitlist" button at the bottom right corner of that day's schedule.  
If you are on the waitlist, you will receive an automatic email (or text message) notifying you when an appointment has been cancelled. In addition, if a Writing Fellow has an available appointment, the Writing Fellow will call students from the Waitlist (starting at the top of the list and working her way down) asking if you are available to meet.
If you receive a text message from the scheduler alerting you to a recently opened appointment, please do not reply with text or call to that message. The only way you can secure that appointment is by going online and booking it the same way you would with any appointment.