Learn more about how to make an appointment with a Writing Fellow below. If you still have questions email writing@barnard.edu.
Making an Appointment
To make an appointment with a Writing Fellow, you need to register for an account with our online scheduler. Once you register, you will have access to make appointments.
The schedule for each day opens one week in advance. For instance, if you would like to make an appointment for October 8th, you can sign up for an appointment on that day no earlier than October 1st. We advise you plan ahead when making appointments. They go quickly, so the earlier you look at the scheduler, the more options will be available.
Writing Fellows almost always use the full hour allotted to each appointment. Please plan to be on time, if not five minutes early. Similarly, do not make an appointment if you have to leave early for another commitment -- plan to put aside the full hour.
Writing Center Rooms are: 223 and 224 Barnard Hall (not LeFrak).
When arriving for an appointment in the Writing Center, use the south entrance on the 2nd floor of Barnard Hall (the side closest to Sulzberger Hall). Have a seat on the green couches, and your Writing Fellow will come out to greet you at the start time of your appointment.
Please note that you may only make 2 appointments in the Writing Center per week. This includes appointments made through the Waitlist.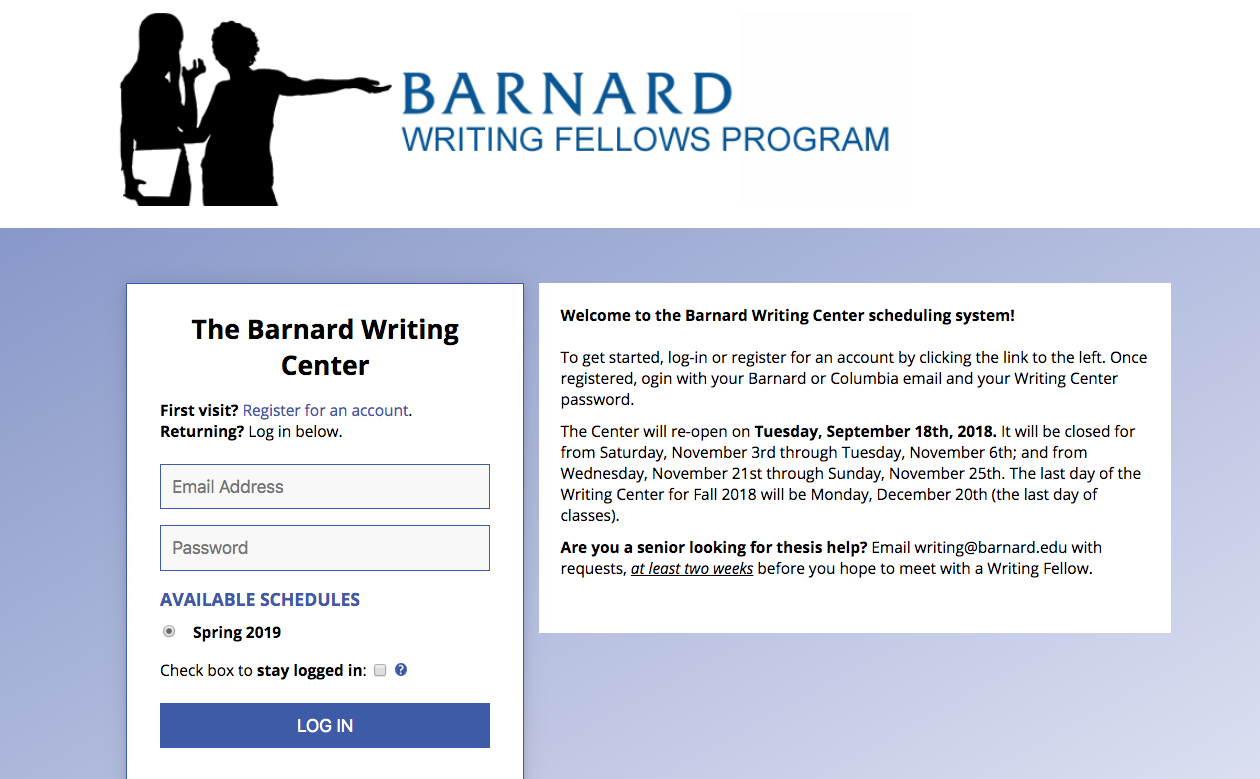 Writing Fellow Conferences
When writers come in for a conference, the Writing Fellow will read the draft, write down comments in the margins and then will discuss your paper and your ideas with you. In the process of the conference, the Writing Fellow may question your claims--do not feel that your Writing Fellow is judging them; rather, this is an opportunity to defend your argument and to review the relevant evidence used in constructing that argument. You may find that talking about something as "dry" as a thesis statement will help you recognize any "holes" in your argument and will assist you with your revision. Furthermore, if you have a particular focus for the writing conference, such as grammar or use of evidence, feel free to tell the Writing Fellow. The Writing Fellows are here for you to talk to about all issues of writing. No issue is too small and no issue is too big.
Columbia students enrolled in Barnard courses may use the Writing Center for papers written for their Barnard classes.
Barnard students enrolled in Columbia courses may use the Writing Center for papers written for their Columbia courses with the permission of their instructor or TA.
Some Writing Fellows are able to conference in a language other than English. Some of these languages include: Bengali, French, Spanish, or Twi.
If you would like to make a conference with a Writing Fellow who speaks a language other than English, sign in to the online scheduler to make an appointment.
Click the drop-down menu next to "Limit to," then click the corresponding language that you would like to have the conference. Be sure to tell your fellow in the pre-conference questionnaire your language preference.
The Science Fellows are students in the Writing Fellows program who focus on helping students describe and interpret data, use scientific language clearly and concisely, and blend the skills learned in humanities classes with scientific ones.
To make an appointment with a Science Fellow, sign in to the online scheduler, click the drop-down menu next to "Limit to," then click Science Fellow.
This will filter the names of the Writing Fellows to those who work specifically as a science fellow. Note: all Writing Fellows are trained and equipped to work with students with courses across the discipline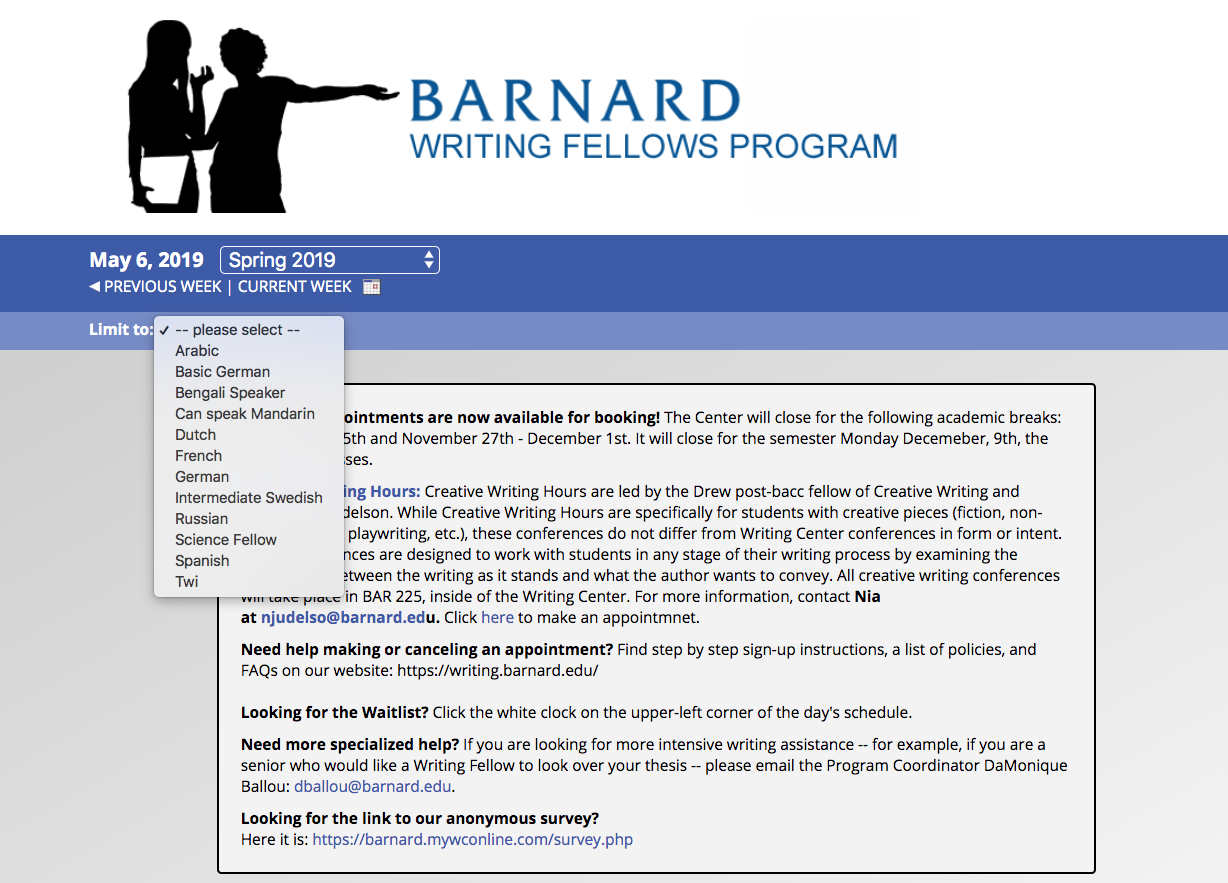 Online Appointments
The Online Scheduler follows Eastern Standard Time Zones. You will see this note on the log in page, please be sure to plan accordingly.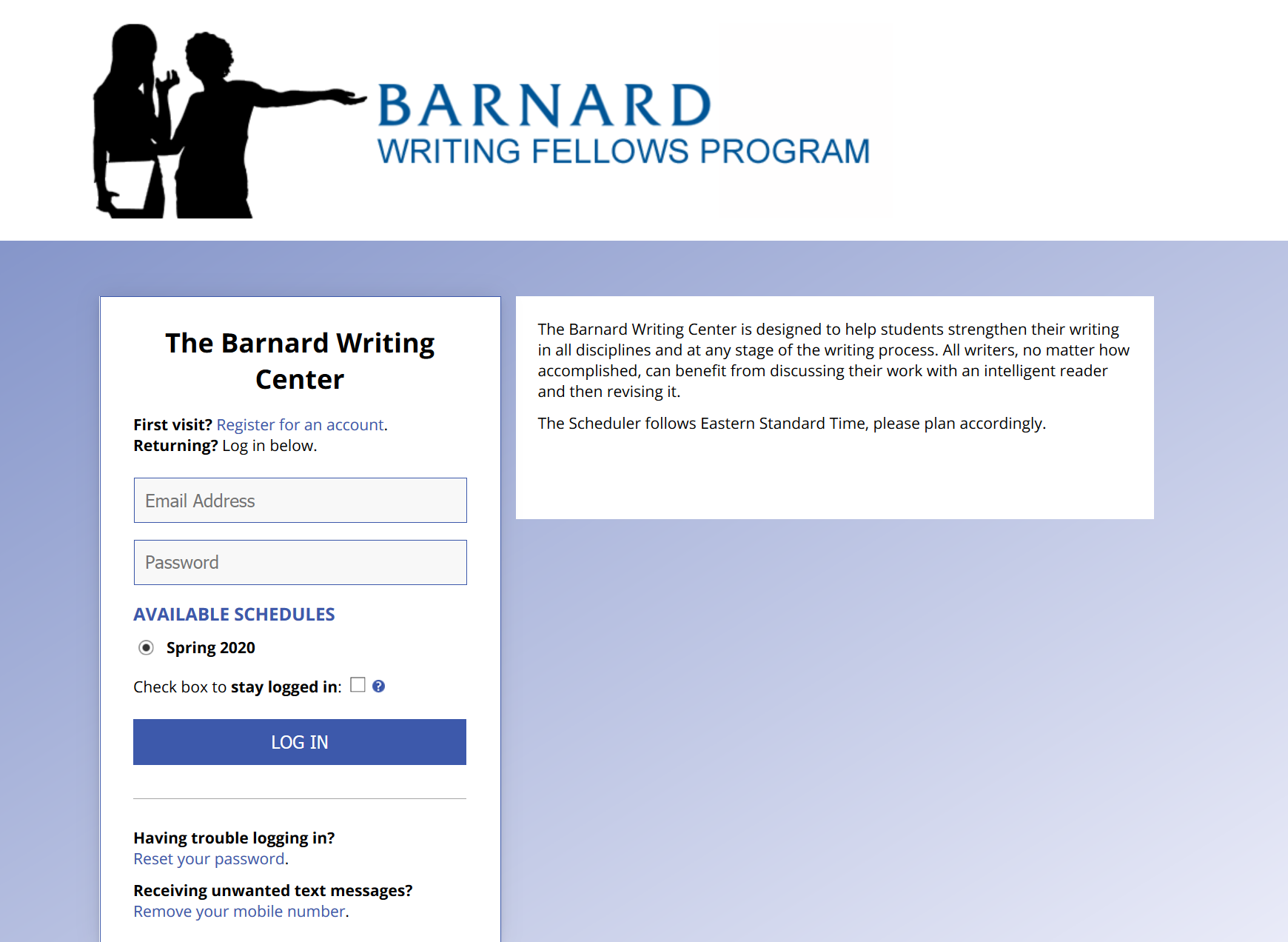 Our announcement page features the same information as prior to transitioning online. (CARDS and OP Hours will continue to be offered, but virtually).
The main difference is our cancellation policy: we will no longer disable accounts. Please note, accounts may be temporarily suspended if multiple no-shows occur.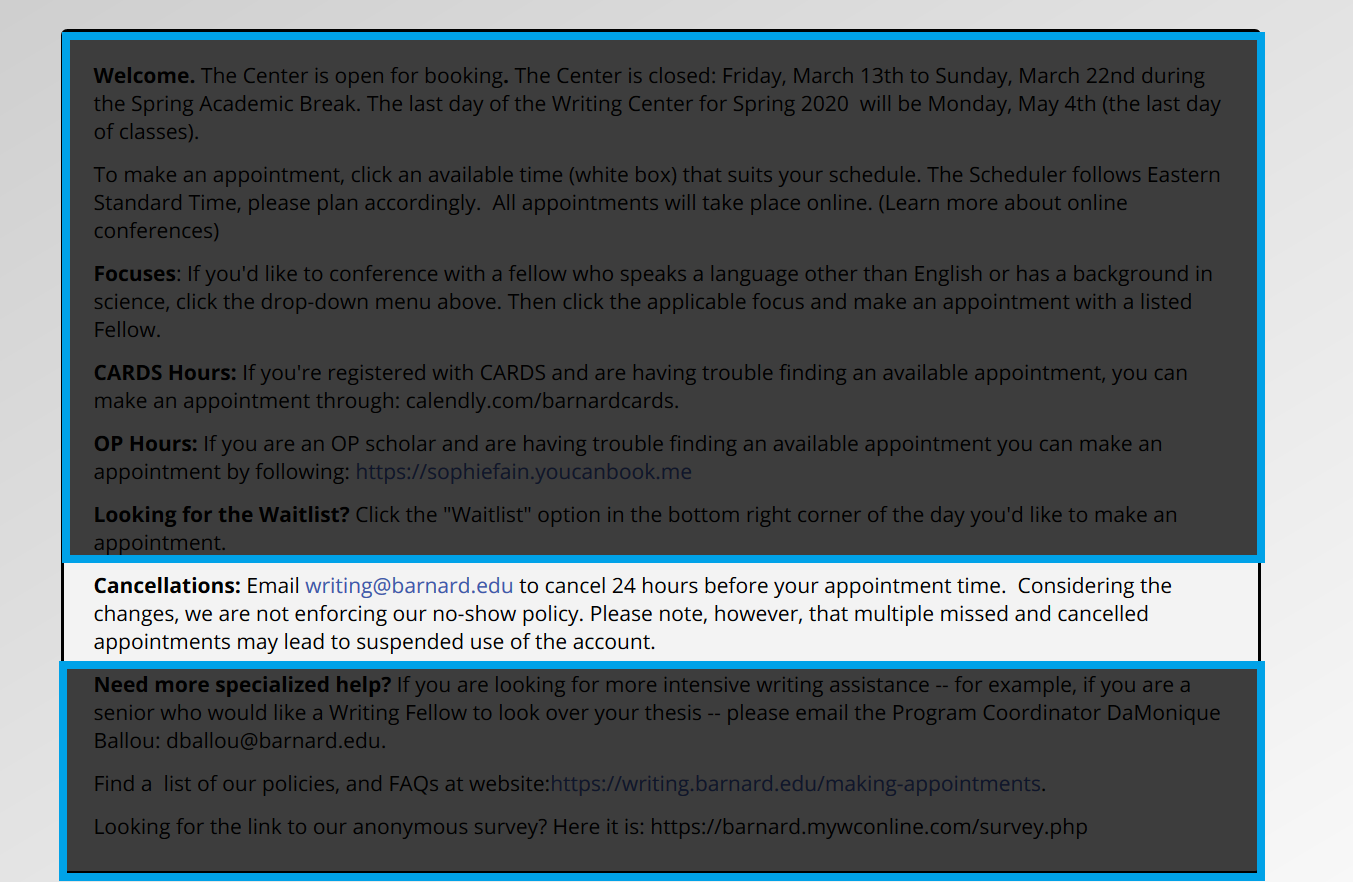 You can now attach documents to appointments or share a link to your document. By doing so, you give the Fellow the opportunity to access the attachment during the appointments. Fellows are not required or expected to read the attachment prior to an appointment in the Writing Center.

To access your online appointment, click the appointment you made. You will be directed to a screen that shares the zoom location of your appointment!